Here is my list of Polish food that I have enjoyed in Warsaw. In no particular order
Kashanka
Polish blood sausage made with pig's blood and buckwheat. It is like a cross between a haggis and a black pudding. It can be boiled, grilled or fried. Very delicious, I had one from a BBQ recently.
Biała kiełbasa
The domestic or common white sausage. To be found in every food shop in Poland. Best grilled or fired. The meat filling is more coarse than the typical British banger and contains cubes of fat. May not be the best for your waist, but you will enjoy it.
Ogórek kiszony/kwaszony
There are (at least) two kinds of dill pickles in Poland. Ogórek kiszony are pickles preserved in wooden barrels. They are a little salty and the taste can change as they mature. I like the mature ones that have started to lose their colour. Very very popular in Poland.
The second kind ogórek konserwowy is preserved in vinegar. Also very good and nothing like the British gherkins that are far too sour.
Kapusta
The word mean cabbage, though it commonly will refer to the Polish version of sauerkraut. It has a distinctive sour taste and does very well with any of the above. Generally I would say that it is more palatable that the German versions and that you should seek it out in the Polish section of the supermarket.
Sznycel (Kotlet Mielony)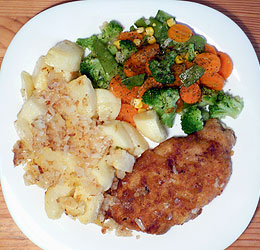 This is a flattened cutlet of port that is breaded and then fried. Very delicious and goes great with fries for lunch. They do a great sznycel in a restaurant near my flat.
Kaczka Pieczona z Jabłkami
Roast duck with apples, it can also be served with a beetroot mash and a red berry sauce. This is my wife's favourite. You really have to try this in a restaurant in Warsaw, I insist.
Befsztyk tatarski
Polish style stake tartare, not to everyone's taste, but here in Warsaw it is popular. It should be served with finely chopped ogórek, chopped preserved mushrooms and onions. Often it will also come with a small piece of fish to mix in and a drop of olive oil. I also like to add a little Maggi seasoning sauce to mine. I recommend it and you can buy packs of the tartare in the supermarkets in Poland to enjoy at home. That said, it is great for a starter in the restaurants here.
Bigos
Polish hunter's stew, made with kapusta, various cuts of meat and sausages, mushrooms and dried plums. Very good and should be eaten if you get the chance. However, avoid the ready made versions in jars that you can find today. It is best eaten in a small restaurant in Warsaw.
That is just a flavour of the great food you can get in Poland. Maybe I should look at Polish deserts next week…